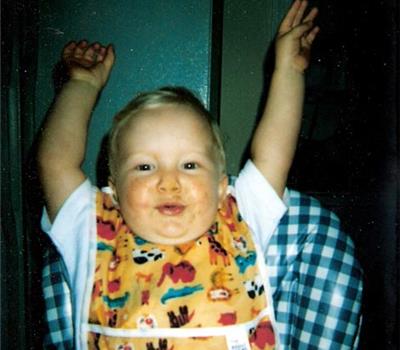 Click image above to view a slideshow
As Brady's Mom, I can't help but describe my sweet son as absolutely amazing. To me and to so many other people who were blessed enough to have met him, there was something more about him, something different and truly, something special. Brady was able to touch so many lives and so many hearts in such a short lifetime of three years. I know that his spirit will live on through all of us.

Brady had quite the zest for life and was blessed with the ability to communicate extremely well at an early age. He was very expressive and loved to talk to anyone and everyone anywhere we went. He loved to take walks around the neighborhood with my dog, Sammy, just so he could see who was out and about. You could always hear him yelling out at the top of his lungs and with great enthusiasm the various neighbors' names -everyone would just laugh and get a big kick out of him.

He just adored other children and had the best time playing with kids from playgroup, music class and the neighborhood.  Most of the time he wanted to greet them by giving them a big hug, but because he was so tall, he ended up putting them in headlocks more often than not. He especially loved girls and actually gave his first kiss to a surprised 4 year old at music class one Saturday. I was shocked, but he seemed quite pleased with himself - he walked away with the happiest little grin on his face.

Brady loved being outdoors and being a part of events. Parades, picnics, fireworks, road trips, overnight camping, hayrides, carnivals, museums and zoos - he loved it all! One of my  favorite things was to go to local outdoor concerts in the summertime - he would just love to dance and everyone would just get the biggest kick out of watching him. He just had such a way with people. There was so much I did with him that he enjoyed, but still so much left undone.

I struggle every day without him in my arms and in my life. But I remember one of the kindest, most touching things that one of my closest friends said about Brady. She described his relationship with her quieter, shyer son and felt that Brady brought out the best in her son. I truly believe that Brady brought out the best in me as his mother. I also feel he brought out the best in all who were so blessed to meet him and be around him.

I invite you to watch the slides show of Brady and hope that as you see his smile and feel his joy and laughter, he will be a lasting inspiration.


Carolyn
Brady's mom