Who We Are
The Brady Kohn Foundation, Inc is a grassroots, volunteer-driven, 501(c)3) organization whose dual mission is to educate the public on the potential of stem cells from umbilical cord blood and to fund non-embryonic stem cell research.

The Early Years

Founded in 2002 by Carolyn Kohn, the organization is named after her son, Brady, who passed away from complications from aplastic anemia. He was almost 3 years old. ( To learn more of Brady's story click here )

In grief and despair friends and family rallied together to offer comfort and support to one another and in doing so, the beginnings of Brady's Foundation was born. In those earlier years, we met in the Kohn's family room and the meetings would last for hours. Dozens of ideas were generated, stories of Brady were shared and many tears were shed. It was a way to come together, be together and create together…something of meaning, something to honor the child that was so loved.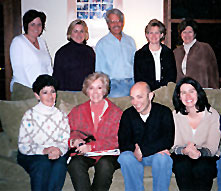 The Foundation Today
Almost 7 years strong, the foundation continues to honor Brady's tremendous spirit as well as make an impact in the world of umbilical cord blood. Still a volunteer driven organization, the foundation relies on the passion and dedication of countless volunteers who act as true advocates in spreading the news about the tremendous advancements of cord blood collection and research.
We honor all of the volunteers and sincerely thank them for their support. Every volunteer and supporter makes a valuable contribution to our life-saving mission.
 

President:

Kendall Massett
Wilmington, DE

Founder: 

Carolyn Kohn
Wilmington, DE